"Departures is one of the most comfortable albums I've listened to in awhile. Listening to it feels like throwing on a well broken-in pair of slippers. For fans of contemporary jazz, there's no way you'll go wrong with this disc. Definitely recommended." —Paul Abella, WDCB
 "DEPARTURES" features contributions of Polish star vocalist Anna Maria Jopek, Indian sarangi virtuoso Ramesh Misra, 3-time Grammy winner Gil Goldstein on piano and accordion, Grammy nominated drummer Mark Walker, guitarist Neal Alger, oud player Ara Dinkjian, Brazilian drummer Adriano Santos, Russian pianist Misha Tsiganov and guitarist Jonathan Kreisberg.  This recording follows his 2006 release called 'Passport' featuring Indian Singer Satya Gummuluri, Harmonica virtuoso Howard Levy and drummer Paul Wertico.
Matt's composition 'NIEKOCHANIE' from 'DEPARTURES' was selected to be part of a world music compilation CD called SIESTA 6 that was released in Poland by Universal Music featuring some remarkable artists like Bono, Latin Grammy Winner Vanessa Da Mata from Brazil, Mexican Star Singer Lila Downs, Raul Midón, Brazlilian Jazz Vocalist Luciana Souza, and Melody Gardot. The album went to #1 Poland for a month.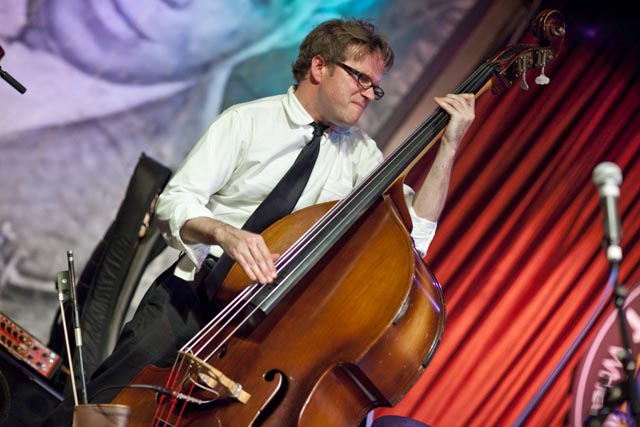 CD Release - Live at the Chicago Jazz Showcase (photo via ChicagoJazzNet)
"As on the album, Geraghty ended the evening with the propulsive groove of "Manhattan in Three Minutes" - an appropriate song that ends too soon to complete an evening that ended too soon, but leaving the listener with the desire to hear more. One would hope more Chicago jazz fans would pick up a copy of Departures and catch this talented and original young voice on the scene the next time he comes to town, and let us hope that is sooner rather than later." - Chicago Jazz Net
For more information and to listen to the album visit www.mgpjazz.com